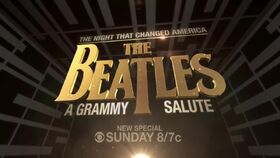 The Night That Changed America: A Grammy Salute to The Beatles
is a television program and tribute to English rock group The Beatles. It aired on CBS on February 9, 2014 and was reshown on February 12, 2014. The tribute, presented by the Recording Academy, AEG Ehrlich Ventures and the CBS television network, commemorated the legacy of the band and marked the 50th anniversary of their first performance on The Ed Sullivan Show. Kenneth Ehrlich served as executive producer, with Rac Clark as co-executive producer. The production was written by David Wild and Ehrlich and directed by Gregg Gelfand.
Ed Sheeran was one of the performers during this special, performing The Beatles' song In My Life.
Ad blocker interference detected!
Wikia is a free-to-use site that makes money from advertising. We have a modified experience for viewers using ad blockers

Wikia is not accessible if you've made further modifications. Remove the custom ad blocker rule(s) and the page will load as expected.