The
Summertime Ball
is a mini-festival held each June by Global Radio. The first ball was at Emirates Stadium in 2009, but has since been held at Wembley Stadium. It is promoted and broadcast by the Capital network. There has been four different sponsors since its first event. Since 2012, Vodafone has been the sponsor. In 2009, Barclaycard sponsored the ball. The following year ASOS.com sponsored the event, with Starbucks sponsoring the event in 2011.
A portion of ticket sales profit is donated to Help a Capital Child (formerly Help a London Child), the Capital charity.
Ed Sheeran performed at the 2012 Summertime Ball.
Ed appeared as a guest during Taylor Swift's performance when performing their single Everything Has Changed.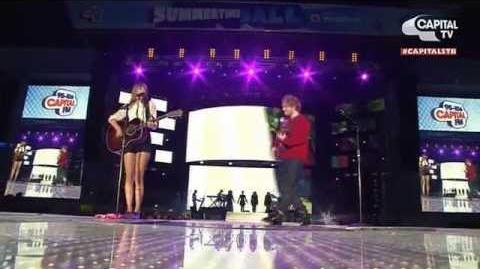 Ed performed at the 2014 Summertime Ball.
"You Need Me, I Don't Need You"
"Lego House"
"Don't"
"The A Team"
"Sing"
Ad blocker interference detected!
Wikia is a free-to-use site that makes money from advertising. We have a modified experience for viewers using ad blockers

Wikia is not accessible if you've made further modifications. Remove the custom ad blocker rule(s) and the page will load as expected.