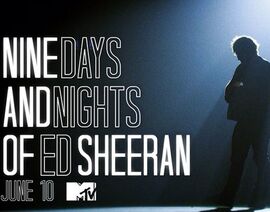 Nine Days and Nights of Ed Sheeran
is a documentary by MTV that will capture the story of the British singer-songwriter
Ed Sheeran
at a turning point in his life and career. It premiered on June 10, 2014.
In this 60-minute documentary film that will take fans inside the world of British singer-songwriter Ed Sheeran, one of the fastest-rising stars in pop music today. With extraordinary, intimate access to Sheeran, this film will be a portrait of a young artist at a critical juncture in his life, filled with the energy of a career that he hopes is largely ahead of him.
Ad blocker interference detected!
Wikia is a free-to-use site that makes money from advertising. We have a modified experience for viewers using ad blockers

Wikia is not accessible if you've made further modifications. Remove the custom ad blocker rule(s) and the page will load as expected.