Jumpers for Goalposts
is concert film about
Ed Sheeran
and was released worldwide in cinemas on October 22, 2015.
Jumpers for Goalposts brings together Ed's captivating performances from the biggest shows of his career at Wembley Stadium in July 2015, where he wows the 80,000 strong crowd with his biggest hits to date, including "The A Team", "Sing" and "Thinking Out Loud" – and there's even a surprise duet from Sir Elton John.
As well as his breath-taking onstage performance, Jumpers for Goalposts is intercut with the story of Ed's triumphant road to Wembley, presenting a revealing and personal glimpse into life backstage and on the road, along with an honest and intimate reflection by Ed – and those closest to him – on just how far he has come.
This special global cinema event is an invitation for Ed's millions of fans to join him around the world and celebrate what he has achieved so far, before inevitably he moves the goalposts once again. [1]
The film was released worldwide in cinemas on October 22, 2015.
Reception
Edit
The Angry Microwave writer Callum Moorin stated: "The footage from the Wembley Stadium shows do not disappoint, there's several key moments that will leave you in awe, especially The A-Team which lights up the 80,000 capacity stadium like a night's sky. There's some really nice editing working in harmony with use of the loop pedal, but it often doesn't commit and quickly leaves this behind.
Over-the-top crying fans are placed in awkward moments during the performances, we understand how much his music means but it does seem to be trying to force this, so much so it's distracting and after the first two or three laughs, it started to wear thin, although there are some gems." [2]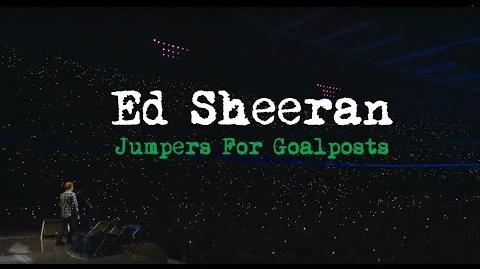 References
Edit
Ad blocker interference detected!
Wikia is a free-to-use site that makes money from advertising. We have a modified experience for viewers using ad blockers

Wikia is not accessible if you've made further modifications. Remove the custom ad blocker rule(s) and the page will load as expected.