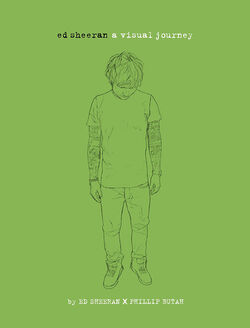 Ed Sheeran: A Visual Journey
is a book by
Ed Sheeran
that was released on November 18, 2014. It was written by Phillip Butah and Ed himself.
Description
Edit
"Ed Sheeran is the soulful singer-songwriter from England who has captivated American audiences. "Ed Sheeran: A Visual Journey" will reveal his early childhood experiences and the various musical influences that have helped him become the musician he is today. It's an intimate book that will give fans a look at the musings, dreams, and hopes of this very private artist.
With close to 100 photos and illustrations by well-known illustrator Phillip Butah, who has worked with Ed Sheeran to create the artwork for his huge hit album "+," this is a book that all Ed Sheeran fans would love to own and cherish!" [1]
References
Edit
Ad blocker interference detected!
Wikia is a free-to-use site that makes money from advertising. We have a modified experience for viewers using ad blockers

Wikia is not accessible if you've made further modifications. Remove the custom ad blocker rule(s) and the page will load as expected.